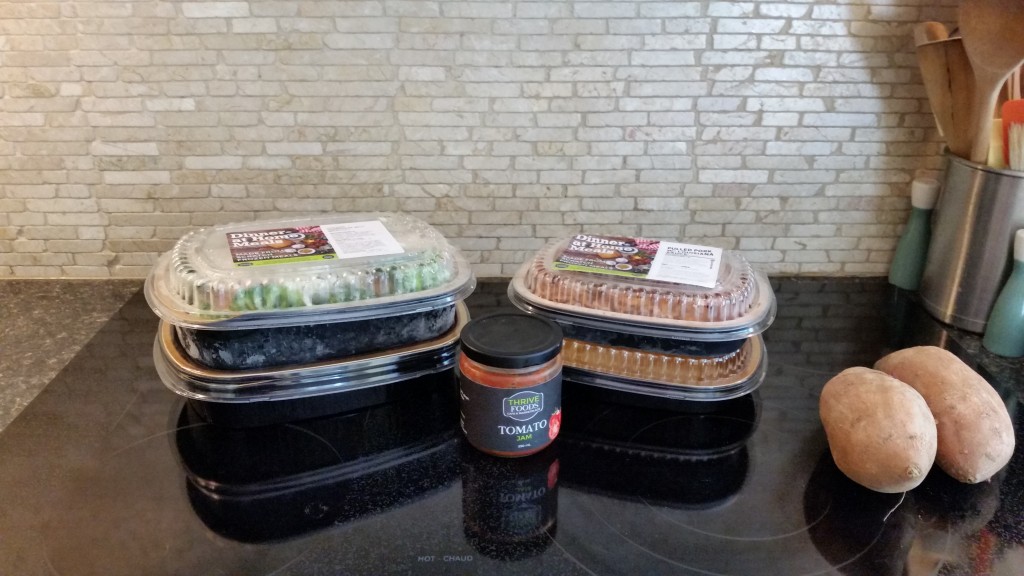 As requested we have been on the look out for healthy and delicious ready-made freezer to oven meals. Recently when chatting with a friend she said "you should meet my friend Nadine Hughes… she is renown caterer, award winning cookbook author, proprietor of 'Thrive' a very cool seasonal store she just opened Honey Harbour and…. she makes fantastic freezer to oven dinners made from scratch with great ingredients!".
We went to visit Nadine at her 2000 sq ft kitchen in Oakville where all her catering magic and Dinner at Home Meals preparation happens. We left with a whole bunch of samples to try and may I say… sometimes our jobs are so hard… over the last month we have sampled some really really wonderful dinners and are now excited to share them with you.
A few things that stand out for us on Nadine's meals:
Drug-free, Antibiotic-free Meats – The meats that Nadine uses are all drug free; no hormones, no antibiotics which, most importantly, keeps to our standards in meats.
It's all about the ingredients – Just real delicious food! Without the use of all sorts of unpronounceable ingredients ie: preservatives, stabilizers, fillers etc.. You taste the actual food and spices and sauces – not the other mystery stuff.
Not over-seasoned – A pet peeve with prepared meals or even restaurant meals is that they are often made with too much sodium. I like to have the option to add salt and pepper if I like. These meals in my opinion are perfectly seasoned.
Portions are big – There are recommended serving sizes but in my opinion these serve more people as the meals don't have loads of added carbs like rice and potatoes and pastas (except the mac & cheese of course). When you add your favourite sides the meals go a LONG way.
Here's what we'll be offering this order cycle (Sept2016) – for pricing and any newly added items check out our online order form.
Indian Butter Chicken, ~1.2Kg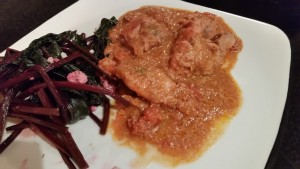 One of the most popular, this dish is all chicken with a delicious sauce. Served along with some rice and veggies this meal will go a long way. Depending on appetites this should easily serve 4 hungry folks maybe more! Gluten Free
Ingredients: Chicken thigh meat, tomatoes, yogurt, tandoori paste, cream, ginger, jalapeno pepper, spices, vegetable oil, lemon, kosher salt, black pepper.
Chicken Pot Pie, ~1.3kg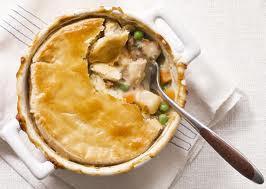 Very chickeny with veggies, sauce and a delicate top crust this pie should feed 4 hungry adults. Just pop in the oven when you get home, maybe throw together a quick salad and you're ready to go!
Ingredients: Chicken breast meat, carrots, butternut squash, potatoes, chicken broth, milk, peas, onions, unsalted butter, flour, garlic, spices, kosher salt, black pepper, Pastry (flour, milk, unsalted butter, vegetable shortening, baking powder, salt)
Gourmet 3 Cheese and Macaroni, .750gm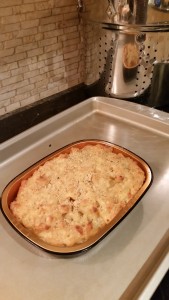 We think there should always be something for everyone – meat eaters and non-meat eaters! This 3 cheese macaroni & Cheese is great. Kids and adults alike will love this classic.
Ingredients: Elbow macaroni, milk, cheddar cheese, mozzarella cheese, parmesan cheese, flour, unsalted butter, breadcrumbs, dry mustard, kosher salt, black pepper
We also will have available 2 fun products made by Nadine…
Energy Bites, Oatmeal Chocolate, 185gm, 12 balls/pk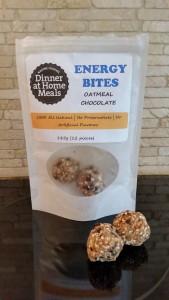 I love these! They are perfect for when you need a little energy boost, great for school lunches (nut-free!) or simply for a yummy treat. You can eat them frozen right out of the freezer or let them sit out for 10 minutes to defrost and enjoy.
Hand rolled with 100% all natural ingredients – no preservatives, no artificial flavours, Gluten Free Friendly, Vegetarian.
Ingredients:  Oatmeal, Sunflower Seed Butter, Soya Butter, Ground Flaxseed, Dark Chocolate Chips (cocoa) Unsweetened Coconut Flakes, Sesame Seeds, All Natural Honey, Pure Vanilla Extract.
Tomato Jam, 250gm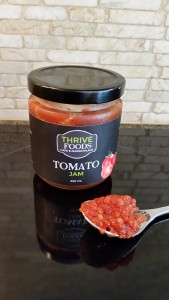 Chunky tomato sauce with the sweet and tang you find in ketchup but with extra yum complex flavours. This is dynamite – with the Macaroni & 3 Cheese and the Chicken Pot Pie – it also pairs wonderfully on a cheese plate!
Ingredients: Tomatoes, brown sugar, lemon, garlic, ginger, pepper, salt, ground cloves