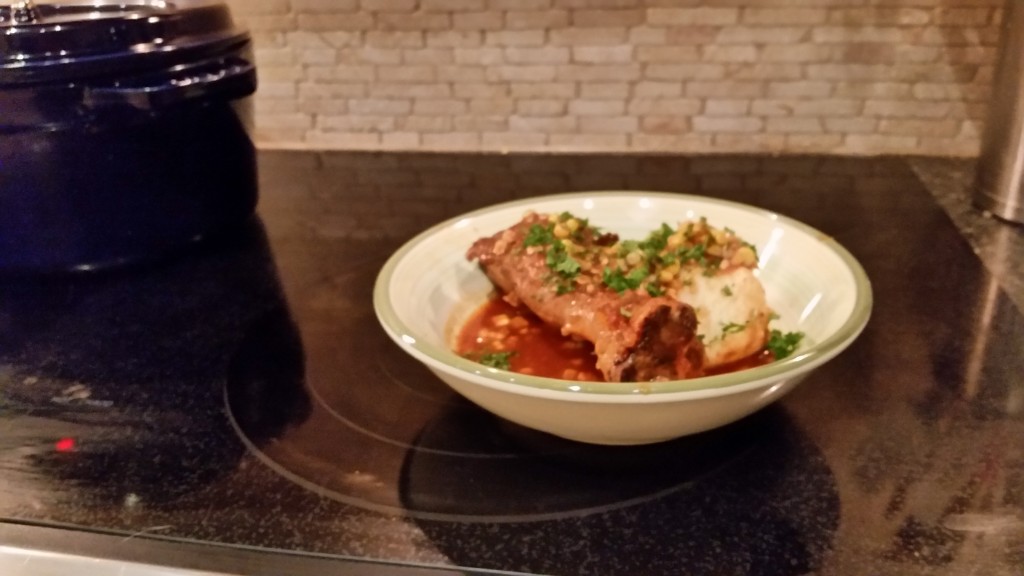 Don't worry about Summer being over… be 'Shankful' it's Fall! …. OK, that was pretty corny, but as it's sad that the long warm days of Summer are getting shorter and cooler there is a silver lining… now it's the season for delicious slow cooked comfort foods.
Lamb shanks are one of our favourites to make this time of year. They are an easy dish to prepare and result in a rich delicious meal. The method we use has minimal prep, a slow roast to start then a few hours of braising. There are so many flavour combinations you can use with lamb shanks – just ask Google and you'll see. For our recipe we used an adaptation of a recipe we found on Cooks Illustrated (Braised Lamb Shanks with North African Spices). Here's how we did ours…
Two Step Cooking Method:
Roast…. Salt & pepper shanks then place in Dutch oven and slow roast low temp (325 degrees) with the lid off for about a ½ hour
Braise… Take shanks out of pot, set aside. On stove, add a bit of oil to Dutch oven, sweat onions and garlic (or whatever you like), add broth, wine, tomato sauce, any spices you like (we used our own Moroccan Dry Rub instead of the Ras al Hanout that CI used). Bring to a boil for a couple minutes to mix ingredients. Put lamb shanks back in, cover and cook at 275 degrees for 2-3 hours or until the meat pulls away from the bone.
Ingredients:
The ingredients we use are all approximate and added to taste. I think that you really can't go wrong when adding whatever appeals to you – here's the gist of what we used:
4 lamb shanks
3 Cups broth (we generally use whatever is in the freezer – this time we used chicken broth as that's what we had)
1 C Tomato sauce
½ C White Wine
1 tbsp olive oil
1 onion – finely chopped
2 cloves garlic – finely chopped
2 tbsp MMJ Moroccan Dry Rub
S&P
This time we served it with mashed potatoes, some corn we had in the freezer from earlier this summer and a sprinkle of parsley. Delish!!