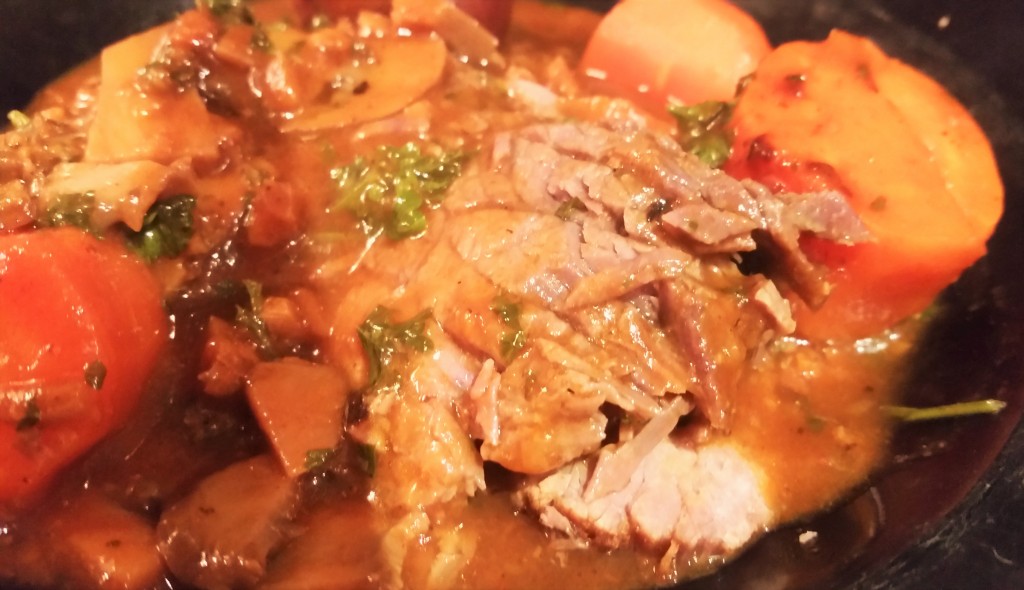 A friend gave us this recipe (which I believe she got from Cooks Illustrated) and it turned out awesome!! SO simple and SO delicious…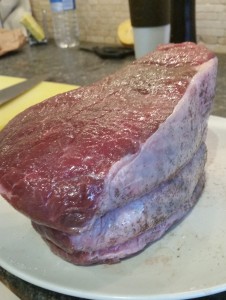 The recipe called for an Eye of Round roast but we used this Rump/Round roast instead. I'm thinking next time we make it we might try a blade roast… or I'll just use whatever is in the freezer!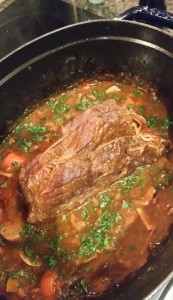 Ok so we didn't actually use our slow cooker as it was in use making bone broth. The recipe worked out just great in our Dutch oven.
Here's the full recipe with instructions….. Enjoy!!
Slow Cooker Roast Beef with Mushroom Gravy
SERVES 6 TO 8
Trim any visible fat from the surface of the roast. Note that the roast needs to rest for at least 18 hours after salting.
INGREDIENTS:
4lb boneless beef eye-round roast
Sea salt and pepper
3 tbsp vegetable oil
8 oz cremini mushrooms, trimmed, halved, and sliced thin
1 onion, chopped fine
2 tbsp tomato paste
2 tbsp all-purpose flour
1-1/4 cups beef broth
1/8 ounce dried porcini mushrooms, rinsed and minced
1 tsp minced fresh thyme
2 tbsp unsalted butter
2 tbsp minced fresh parsley
Sprinkle roast all over with 4 teaspoons sea salt. Wrap in plastic wrap and refrigerate for at least 18 hours or up to 24 hours.
Pat roast dry with paper towels; rub with 1 tbsp oil and season with pepper. Heat 1 tbsp oil in a skillet (or Dutch oven) over medium-high heat until just smoking. Sear roast until browned on all sides, about 10 minutes. Set roast in slow cooker.
Add remaining 1 tablespoon oil to now-empty skillet and heat over medium-high heat until shimmering. Add cremini mushrooms, onion, tomato paste, and 1 tsp salt and cook until vegetables have softened, about 5 minutes. Stir in flour to coat vegetables and cook for 1 minute. Slowly whisk in broth until incorporated, scraping up any browned bits. Add porcini mushrooms and thyme and bring to boil. Pour broth mixture around roast. Cover and cook on low heat until meat registers 125 degrees (for medium-rare), 1-1/2 to 2 hours. (Jen's note: I cooked the roast for significantly longer — by accident! — the second time I made it, and it was much better. it cooked for six hours and it ended up like a very, very tender pot roast, but with a much better texture. The shorter cooking period produces a roast that is more like an oven-cooked roast.) We cooked ours longer as well and it was great. We also added in a few potatoes and carrot chunks an hour before taking out of the oven.
Transfer roast to carving board, tent with foil, and let rest for 15 minutes. Leave slow cooker on "warm" setting to keep gravy hot. Whisk butter and parsley into gravy and season with salt and pepper to taste. Slice roast thin against grain and serve with gravy.